Buy to Let Guide
Buying an Investment Property:
Buying an investment property can be a daunting experience, as this will most likely be your largest investment. Making sure you purchase at the correct time, in the right area will determine whether or not you achieve good returns on your investment. Before purchasing a buy to let property you should do sufficient research to ensure that you are making the right decision with your money and ensure that you search for an area that has a positive buy to let market, as the last thing you want is a property that struggles to let, or even worse, costs you money.
Now, if you have decided that buy to let is for you then follow these steps:
1) How Will You Finance a Buy to Let:
There are multiple ways to finance a buy to let property and choosing the best option for you really depends on your personal finances. Some Landlords have the ability to purchase outright, however most choose to get a "Buy to Let Mortgage" allowing a much smaller cash output on day one. Usually lenders expect you to place a 25% deposit before they will lend, but should you need advice on the matter, let us introduce you to our independent mortgage broker and see what options are available to you.
2) Choosing The Best Area:
Finding an area to invest in can be tough and you should spend most of your time researching different areas to ensure you invest safely. What should we do?
Start looking at different towns on Rightmove and compare purchase prices to rents, as this will determine your overall yield. Also look to see properties are letting and check accessibility to schools, shops and transport, as these will be your key points on whether an area is a safe investment. You need to decide on whether you invest locally or look to a new area where house prices are cheaper. If you decide to look out of the area you need to keep in mind that you may have to travel to the property to resolve issues and keeping it semi-local may be a wise move and an option most prefer.
3) The Right Property:
Do I buy a house or flat? Deciding what is best really depends on the area, as some areas have a huge amount of apartments and others are saturated with houses. Ensuring you choose the correct type of property will determine your overall return from your investment.
How many bedrooms? You now need to look online and do some research into how many 1,2 or 3 bedroom properties are available at any-one time and possibly watch a handful to get an idea on how quickly different sized properties let. This is also very important, as having a property where there is lots of competition can lower your yield and give you longer void periods, so possibly count the numbers of one and two bedroom properties available and monitor which let quicker on a monthly basis. If you are looking to invest in our area, we can always assist with this information and are more than happy to do so.
4) The Investment:
The key point when deciding whether a property is right for you should be the return you are making. You should look at the difference in rental figures, as there may be a small difference in rent between 1 & 2 bedroom properties; however the difference in purchase prices may be substantial. Example: If one bedroom properties let for £1,000-£1,050pcm (per calendar month) and two bedroom properties let for £1,100-£1,150pcm, then you are only benefiting from £50-£150pcm. Now look at the sale prices – if one bedroom properties sell for £250,000 and two bedrooms sell for £325,000, is £100pcm worth an extra investment of £75,000? Probably not, as the return on the extra £75,000 at a rental amount of £100pcm is roughly 0.16% per year. This extra £75,000 could be used as another deposit and potentially offer return of 4-5%.
Always remember to purchase a buy to let with your head and not your heart, as you will not be living here and it should be looked at as a business that gives you the best returns.
Investing In Borehamwood
Borehamwood as an area offers easy access to everything that is important to a potential tenant, with London bus links, great schools, a large shopping park, ranges of restaurants and a train that takes you to central London in under 30 minutes (it's also the last stop in zone 6). The area also offers easy access to the A1 & M25, so commuters can get anywhere with ease. Borehamwood's town has been full of investment over the past few years, with a constant influx of large brands and new restaurants opening every few months.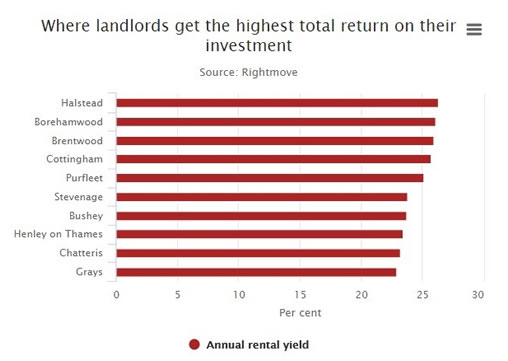 These points are very important when looking at an area to invest in, as an attractive and growing area always brings new tenants.
In 2015 The Telegraph voted Borehamwood as the 2nd best hotspot for buy to let returns, as London's house prices outweigh the amount new investors are making from yields in the capital. Borehamwood was the 2nd best area that is benefitting from strong rental and house price growth, according to Rightmove.
Source: http://www.telegraph.co.uk/finance/property/11918909/Essex-and-Hertfordshire-named-top-buy-to-let-hotspots.html
"Investors and tenants who have been priced out of London and the South East have looked for better value areas in the East, and it seems they've found a winning formula. If you look at the top 10, six of the areas have asking prices below the national average, making it affordable for buy-to-let investors and tenants," said Sam Mitchell, head of lettings at Rightmove.
If you need any advice on investing, please contact our office, we are always happy to help.