Transport
On the west side of Borehamwood is Elstree & Borehamwood railway station, served by trains operated by First Capital Connect on the Thameslink route with speedy links in and out of central London.
London buses run its 107 bus service through the town from New Barnet onto to Edgware and the 292 bus service going into North West London. The Uno (bus company) run a bus service that stops at Borehamwood starting from Hatfield to Stanmore and back, as well as a bus service that goes to Watford, Intalink operate a bus service to other parts of Hertfordshire.
The area offers outstanding road links in and out of London via the A1 and access within a stones throw to the M25, giving excellent links to all of London's Airports. Also just a short drive from Watling Street is Elstree Aerodrome, which offers private air transport to many differing locations.
Sport & Recreation
The Venue sports and leisure centre on Elstree Way offers a variety of activities including an indoor swimming pool and large gym. The area offers a host of sports clubs offering the community almost every type of sporting pastime. Surrounded by beautiful greenbelt the area offers a huge variety of countryside activity including horse-riding, woodland trails and walkways and numerous golf clubs.
Borehamwood is home to Boreham Wood F.C., Arsenal Ladies and Watford F.C. Reserves who play their home games at Meadow Park. There are several parks in the area. Aberford Park is featured with the source of the brook which has been artificially been made to look like a lake. Meadow Park includes a large playing field, tennis courts and basketball courts.
Borehamwood Shopping Park features large stores such as Marks & Spencer, Debenhams, Next, Outfit - which includes Burton, Dorothy Perkins, Evans and Miss Selfridge, WH Smith and Boots. The high street (Shenley Road) offers a wide range of shopping and restaurants and also features a Tesco megastore.
SCHOOLS
Borehamwood has an excellent choice of primary schools, including Cowley Hill Primary School and Parkside School, which were described by Nikolaus Pevsner as typical of the exemplary post-war work of the Hertfordshire County Architect's Department. Secondary schools include Hertswood Academy, Yavneh College and Elstree University Technical College. Renowned independent schools include Haberdashers' Aske's Boys' and Girls' schools and Aldenham.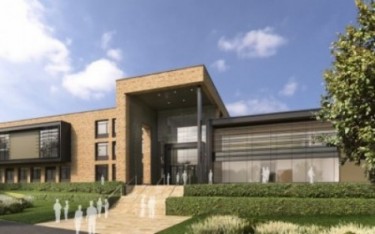 Other items you might not know about the area
Borehamwood & Elstree may simply be an attractive commuter town with excellent links to London, however there is far more to the town than initially meets the eye. Below are some of the facts you might never have known the area:
Located just 12 miles from Trafalgar Square in the centre of London.
Home to the world famous Elstree Studios, the television and film studios have hosted some of the world's biggest stars in the making of programmes and films as diverse as Star Wars and EastEnders. The town has a population of over 31,000 and growing.
As well as boasting its own football team – Borehamwood FC which plays in the Conference Premier division – the town plays host to Arsenal Ladies and Watford FC Reserves who play their home games at the town's Meadow Park.
The TV series Grange Hill was filmed at the town's old Hillside School from 1985 to 1990.
The town is twinned with Fontenay-aux-Roses in France and Offenburg, Germany.
Eighteen Teddy Trails have been opened encouraging people to put on their walking boots and do some exercise in the surrounding countryside. The trails have all been reconnoitred and personally recommended by Teddy, a fox terrier who has been a resident of the town since his puppyhood and is an enthusiastic and experienced user of the local footpath network.
For over 60 years each summer the town hosts its Annual Civic Festival featuring a carnival, classic vehicle show and family day.
The town hosts outdoor street markets on Tuesdays and Saturdays.