Specialists in selling & letting property in Borehamwood, Elstree and Surrounding areas
With over 50 years of combined knowledge and experience in the Borehamwood and Elstree area, we can offer information to buyers and sellers that is invaluable when buying or selling a home.
Established in 1996, Simmons Estates has successfully sold thousands of properties in the Borehamwood & Elstree area, through both the good and bad markets our company has survived and we firmly believe this is down to a strong work ethic and a drive to always do the best for our clients, whether Sellers or Landlords.
Deciding on who to entrust your property with is a very big decision and should not be taken lightly. We pride ourselves on offering clients a personal and bespoke service to tailor to the needs of anyone, regardless of size or value of a property. We ensure that our clients have a positive experience when using us and we will always take the pressures of selling off your shoulders. Understanding that selling a property is one of the most stressful things you may do in your life differentiates us from others, as we will always make the extra call and go the extra mile to make sure that our clients achieve the best price and sell with minimum stress.
We always hear that sellers or landlords think that Rightmove & Zoopla sells or lets a property, but did you know that Simmons Estates sell most of the property in the area that has failed to sell with other local agents.
How? Hard work and a determination of always being on top of our database and knowing which buyer will suitably fit a property.
NAEA Propertymark
We are proud to have attained several industry accreditations which help us ensure that our service is the best it can possibly be. We are members of NAEA Propertymark which means we meet higher industry standards than the law demands and strictly adhere to their regulations, ensuring that we only provide a first-class service and offer you the best possible advice. Click here for more information.
What makes NAEA Propertymark protected estate agents different?
1. Integrity
NAEA agents are expreienced and trained professionals, who abide by a nationally recognised code of practice.
2. Complaints procedure
Independent Ombudsman services and regulated by Propertmark
3. Peace of mind
Hold all the correct insurance and protection to give you peace of mind through your move.
4. Compliant
Registered with HMRC to ensure compliance with money laundering regulations.
NAEA Propertymark estate agents don't just sell houses- they help you move!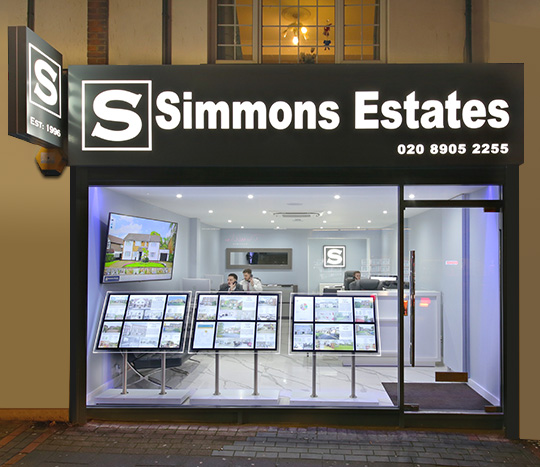 Selling a property after another agent has had the first opportunity makes our job very hard, but if we are able to sell these properties when other agents fail, this proves that we are an agent to entrust your home with.
Over the past years, Simmons Estate has proven to finish on top when selling property and justified why we are worth working with, setting new price records in nearly every road we sell in and justifying why we may be the best choice of estate agent in Elstree and Borehamwood for you.